HOME    CONTACT    PHOTO GALLERY    LINKS    HOW TO PLAY THE OBOESOLOS   CHAMBER MUSIC   LARGER ENSEMBLES   FORGING AHEAD ON THE OBOE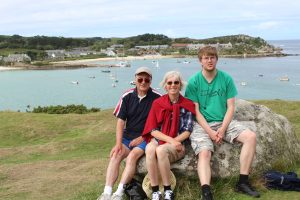 I was born and educated in Doncaster. At 18 I went on to study Oboe at the Royal College of Music with Sidney Sutcliffe. During my student days, I was Principal Oboe with the British Youth Symphony Orchestra. On completion of my 4 years at the Royal College I, initially, went on to pursue a freelance career. This involved work with the Royal Ballet Touring Company, the International Orchestra of the Cyprus Music Workshop, one year as Sub-Principal Oboe with the National Symphony Orchestra of Iceland and oboist with the Arradon Ensemble, a chamber group directed by Brian Ferneyhough, specializing in 20th Century repertoire.
I then decided on a slight change of direction turning my attention more towards composition as well as taking a one-year course in instrumental teaching at Bretton Hall College. This led to a post in the Instrumental Teaching Service in Berkshire. Since that time I have continued to be active in all aspects of music, notably as oboist with Collage Chamber Ensemble (Flute, Oboe, 'Cello & Harpsichord) with whom I performed and broadcast regularly throughout the UK and Europe. It was with Collage that my composition was given a platform as I wrote many pieces for the group. Collage had a wide and varied repertoire ranging from Baroque Trio Sonatas to the avant-garde. In addition to my own work, Collage commissioned pieces from composers such as Robert Saxton, Anthony Powers, Jonathan Lloyd and Jonty Harrison.
As a composer I have received many commissions for a whole range of pieces, from children's musicals to full symphonic works. My works have been performed in such venues as the Royal Albert Hall, the Purcell Room, St. John's Smith Square, the Festival Hall and the Fairfield Halls as well as having been broadcast both in this country and abroad. As a member of the British Academy of Songwriters, Composers and Authors, I have been invited on three occasions to serve as a juror for the British Composer Awards.
Some of my more recent compositions include "Lucy and the Windmill" – Flute, Oboe & Piano (Uckfield Festival), "Lewes Pictures" – Symphony Orchestra (South Downs Youth Orchestra), "Midwinter" – Flute, Oboe & Clarinet (New Music Brighton), "SPLASH!" – Flute, Oboe & Viola (Gala Concert for Water Aid) and "Partita for the Third Age" – Flute & Piano (for long time friends and colleagues, Jay & Nigel Wilkinson). A few years ago I completed a new book of oboe music for players of Grade 3-5 standard, "Forging Ahead on the Oboe" which is currently on the Trinity Exam Syllabus.  Details of this book can be found HERE.
As a teacher I have held senior positions in Berkshire (Assistant Director, South Berkshire Music Centre), East Sussex (Area Director of Music & Director of Crowborough Area Music Centre) and West Sussex (Head, Crawley Area Music Centre).