HOME BIOGRAPHY CONTACT PHOTO GALLERY LINKS SOLOSHOW TO PLAY THE OBOE LARGER ENSEMBLES FORGING AHEAD ON THE OBOE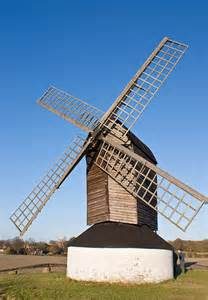 LUCY AND THE WINDMILL for Flute, Oboe & Piano
Our disabled daughter, Lucy, was at the National Centre for Young People with Epilepsy (now named Young Epilepsy). When my wife and I (my wife Sarah is a flautist) were offered the opportunity to perform in the Uckfield festival in 2006 we asked that our concert should be a charity event and that the festival would promote the NCYPE 'Windmill Fund' The name of this fund came from the first house built in the redevlopment programme at NCYPE which, on the plan, looked like the sails of a windmill. "Lucy and the Windmill" was given its first performance at this concert.
I used the windmill idea as the linking theme for the piece. There are four movements: 1. Jack & Jill (the two famous windwills on the Sussex Downs); 2. Pitstone Windmill (the oldest windmill in the British Isles); 3. Tilting at Windmills (a Spanish dance inspired by Don Quixote); 4. The Windmill Theatre (We Never Closed!)
Approximate duration: 6'30" Price £9.95

SPLASH for Flute, Oboe & Viola
The Splash Festival in Haywards Heath promoted a whole range of community events throughout 2008. The final event was a Gala Concert for which this piece was composed. One of the main aims of the festival was to raise money for Water Aid, – hence the name. Each of the five movements of the work has a water-related reference. The movements are: 1. The Brook; 2. Barcarolle; 3. Impression;
4. Fughetta; 5. Slightly Silly Piece. This performance was a family affair with me on the Oboe, my wife, Sarah (Flute) and my son, John (Viola). Approximate duration: 8'30" Price £14.70
MIDWINTER
for Flute, Oboe & Clarinet
This woodwind trio was composed for a New Music Brighton concert and performed in early December 2007. The work plays continuously but has four clearly defined sections: –
Ice, Wind & Rain, Carol & Party Games. Approximate duration 4'45" Price £7.70
TRIO for 2 Oboes & Cor Anglais
This piece is dedicated to the memory of Jenny Caws who played in the first performance of the work. Jenny was a very close friend for many years. We had studied together at the Royal College of Music after which she went on to be principal oboe with the BBC Scottish Symphony Orchestra. When she came back 'down south' we worked together in many playing and teaching situations around Sussex and the south-east.
The work has five movements: 1. Prelude; 2. Meditation; 3. Invention; 4. Swing; 5. Scherzo. In the third movement the 2nd oboe changes to Oboe D'Amore and in the fourth movement both the 1st & 2nd Oboes change to Cor Anglais. However. the fourth movement may be played on 3 Oboes instead of 3 Cors and the D'Amore part will work on the Oboe (transposition provided). Approximate duration 9'30" Price £9.95

WIND QUINTET
This Wind Quintet is in four movements: 1. Prelude; 2. Nocturne; 3.Waltz?; 4. Galop. The piece is in a fairly-forward style ans is not too challenging technically. Approximate duration: 11'30" Price £11.95

MID-SUSSEX SUITE for 3 Oboes and Bassoon
I wrote this piece at the request of Jenny Caws for a group of promising young players at Burgess Hill School. They went by the name of the "Burgess Hill Double Reed Dazzlers". There are three movements: 1. Wivlesfield Waltz; 2. Twineham Tango; 3. Hassocks Hoedown.
Approxiamate duration 3 minutes Price £6.95

THREE MORE VILLAGES for 3 Oboes and Bassoon
This is a sequel to the above piece. The Double Reed Dazzlers had enjoyed the first piece so much that it was 'suggested' that I write another. As the Mid-Sussex Suite had used the names of local villages in the movement titles I wrote this second set, hence the title, "Three More Villages". This was the second of four works written for the Dazzlers over a period of about 5 years. It was a real pleasure to write for such committed and motivated young players and their brilliant teacher Jenny Caws. Each piece became more advanced as the players themselves developed. The movements of this piece are: 1. Bolney Beguine; 2. Lindfield Landler; 3. Plumpton Polka. Approximate duration 4 minutes Price £6.95

DAZZLING DIVERTIMENTO for 3 Oboes & Bassoon
This is the third of the four works written for the Double Reed Dazzlers. By this point they had become much more accomplished both individually and as a group. This is reflected in the scoring. There are four movements in this particular piece: 1. Prelude; 2. Siciliana; 3. Minuet & Trio; 4. Comedy. Approximate duration 6'30" Price £7.70
FOUR MINIATURES for 3 Oboes & Bassoon
For this final work I wrote musical caricatures of the four players, Florence, Millie, Elizabeth & Olivia. The technical level of this piece is fairly advanced as the players, by now, were getting up around the Grade 6- 8 standard. The movements are: 1. Frolicsome Florence; 2. Leaping Livvy; 3. Elegant Elizabeth; 4. Merry Millie. Sadly Jenny Caws died before this work could be studied so it never received its first performance. If anyone would like to give the first official performance please let me know. Approximate duration 6'30" Price £7.70
DICKENSIAN SKETCHES for Saxophone Quartet
This piece was commisioned by John Harle for the Myhra Saxophone Quartet. Each of the six miniatures represents a character from a Dickens novel. These characters are Agnes Wickfield, Herbert Pocket, Mr. Jingle, Smike, Jerry Crucncher & Daniel Quilp. Approximate duration: 11 minutes Price £13.50
A COMEDY IN THREE ACTS for Saxophone Quartet
Commisioned by the Northern Saxophone Quartet, this work is in three contrasting sections which are played continuously. After a rythmic opening section, the second section is very mournful, representing the often over-the-top pathos found in many popular comedy films. The final section represents a chase episode often a feature of comedy shows and films. Approximate duration: 5 minutes Price £9.95
TWO PIECES for Trombone Quartet/Ensemble
This is a fairly straight-forward piece for Trombones which can be played with either one player to a part, or several. The two movements are Ballad and Waltz. Approximate duration 4 minutes. Price £4.95
LONG JOHN'S HORNPIPE for Cor Anglais and 'Cello
This is one of my slightly silly pieces! Imagine a pirate with a wooden leg trying to dance a hornpipe. There is little else to say. Approximate duration: 1'45" Price £4.50
PAS DE DEUX for Flute & Oboe
Two very athletic dance movements bracket a much more lyrical one. The three movements are: 1.Comedy; 2. Intermezzo; 3. Frantic Dance. Approximate duration: 4'30" Price £6.95

LITTLEWICK SUITE for Two Pianos
This was a commission for the 10th Anniversary of Littlewick Music Week. The four movements are:
1. Prelude; 2. Capriccio; 3. Pas de deux; 4. Finale. Each movement is dedicated to someone closely involved with Littlewick Music Week throughout its ten years. Approximate duration: 9'30" Price £9.95
STEFAN'S RONDO for Oboe Duet
This piece is for two fairly advanced players, Grade VI +. It is marked "allegro assai" and is in the key of D major. Approximate duration: 1'50" Price £4.50
STEFAN'S RONDO for Oboe & Bb Clarinet
This is a version of the above piece but arranged for Oboe & Clarinet. The key has been changed to C major. Approximate duration: 1'50" Price £4.50

POSTAGE & PACKING
Order value: £9.99 or under – £3
Order value: £10 to £19.99 – £3.50
Order value: £20 or more – FREE
E-books ordered will obviously not be included in this calculation as they are downloaded
OTHER PUBLISHERS OF MY CHAMBER MUSIC
Somerset Suite for Oboe Trio (Warwick Music)
The Lass of Richmond Hill Variations for Wind Quintet (Warwick Music)
Two by Two for Oboe (Mixed ability duets) (Faber Music)
Two by Two for Saxophone (Mixed ability duets) (Faber Music)
Hinchliffe Music – Copyright 2016 © – All Rights Reserved