HOME    BIOGRAPHY    CONTACT    PHOTO GALLERY    LINKS    SOLOS  CHAMBER MUSIC    LARGER ENSEMBLES    FORGING AHEAD ON THE OBOE

"How to play the oboe in one easy lesson"
by Robert Hinchliffe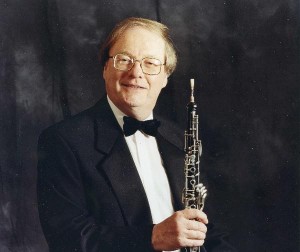 Dear Fellow Oboists
"There seems to be a kind of mystique surrounding the playing of the oboe. There is no doubt that the instrument is very strenuous, especially for the beginner, but by learning and understanding the correct techniques of playing it is no more difficult to master than any other. This e-book, which is based on 30 years experience of teaching the oboe, will take you through all aspects of technique enabling you to develop and/or improve your command of the instrument. Whether you are a beginner or an established player, this book will guide you through the essentials which will enable you to truly master that most magical of wind instruments, – the oboe."
"YOU CAN ACQUIRE THAT BEAUTIFUL TONE LOVED BY SO MANY"
 When played well the oboe is one of the most beautiful of all instruments. However, when played less than well it can be positively painful to listen to. Good technique gives us the control to bring the best out of the instrument and produce that lovely tone which will impress all those who hear it. It is that control which is at the heart of this e-book.
"EASY STEP BY STEP INSTRUCTIONS TO OBOE SUCCESS"
All aspects of technique are dealt with in a clear and comprehensive way. Each technique is explained fully and exercises for developing or improving that technique given. Understanding of why we do things in a certain way is an essential part of the learning process. This e-book will explain everything you need to know with clarity and humour.
"YOU CAN LEARN TO MASTER EVERY TECHNIQUE"
The book contains sections on everything from acquiring a good posture to, what I call, the secret of oboe playing, – that is the balance between the embouchure and the diaphragm.
You will learn the 'Six Steps' of oboe playing and receive advice on issues such as control of the high notes, tonguing technique and the development of a good hand shape.
Whether you are a student, player or teacher, the information in this e-book is essential reading.
"TAKE THE STRESS AND STRAIN OUT OF PLAYING"
To many young players especially, the oboe is stressful and hard work. By applying the techniques outlined in this book, the muscles will be trained to cope with these difficulties making the instrument much less tiring to play. It is all a question of which muscles do what! If the wrong muscles are being used then problems are bound to ensue. This is especially true if smaller, weaker muscles are being used to do work which should be done by bigger and more powerful muscles. You wouldn't try to pick up a large bucket of water with one little finger, – I hope!
"SO WHO AM I THAT YOU SHOULD LISTEN TO WHAT I HAVE TO SAY?"
Perhaps, first of all it would be a good idea to listen to a recording of my playing. Please use the button at the left of the play bar below to start and stop the recording.
"The Duck's Waltz" composed and performed by Robert Hinchliffe
MY MUSICAL EXPERIENCE
I studied the Oboe at the Royal College of Music with that great British oboist, Sidney 'Jock' Sutcliffe. During my student days, I was Principal Oboe with the British Youth Symphony Orchestra. On completion of my 4 years at the Royal College I, initially, went on to pursue a freelance career. This involved work with the Royal Ballet Touring Company, the International Orchestra of the Cyprus Music Workshop, one year as Sub-Principal Oboe with the National Symphony Orchestra of Iceland and oboist with the Arradon Ensemble, a chamber group directed by Brian Ferneyhough, specialising in 20th Century repertoire.
I then decided to diversify turning my attention more towards composition as well as taking a one-year course in instrumental teaching at Bretton Hall College. This led to a post in the Instrumental Teaching Service in Berkshire.
Since that time I have continued to be active in all aspects of music, notably as oboist with Collage Chamber Ensemble (Flute, Oboe, 'Cello & Harpsichord) with whom I have performed and broadcast regularly throughout the UK and Europe. It was with Collage that my composition was first given a platform as I have written many pieces for the group. Collage has a wide and varied repertoire ranging from Baroque Trio Sonatas to the avant-garde.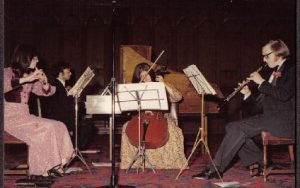 An early picture of Collage Chamber Ensemble (c.1980) playing at the London Guildhall
As a composer I have received many commissions for a whole range of pieces, from children's musicals to full symphonic works. My works have been performed in such venues as theRoyal Albert Hall, the Purcell Room, St. John's Smith Square, the Festival Hall and the Fairfield Halls as well as having been broadcast both in the UK and abroad. I am also the composer of "The Really Easy Oboe Book" (Faber Music), one of the most widely used books of pieces for young oboists. These pieces are used by most of the  examinations boards (e.g. The Associated Board & Trinity Guildhall).
As a teacher I have held senior positions in Berkshire (Assistant Director, South Berkshire Music Centre), East Sussex (Director, Crowborough Area Music Centre) and West Sussex(Head, Crawley Area Music Centre).
I am a member of the British Double Reed Society and, in that capacity, I have coached and directed groups of oboists at regional Double Reed days as well as at several BDRS Annual Conventions.
During my 30 years in music education I have developed my own ways of putting across to my pupils the essential techniques of playing the oboe. It is on that fund of experience that I have drawn in the writing of this e-book. The development of the internet has provided a wonderful opportunity, allowing me to pass on that breadth of experience to a much wider group of budding oboists than ever before.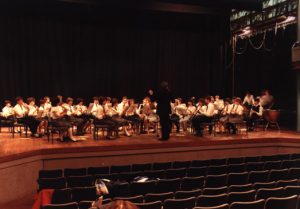 Working with a youth band at South Hill Park Arts Centre in Berkshire
"SO HOW MUCH WILL IT COST ME?"

This comprehensive treatise on oboe playing which draws on over 30 years of teaching experience can be yours for just $13.70. Also included in the download is a second e-book totally free of charge. (See below)
---
 I am offering a FREE BONUS of one of my other books:
"BREATHING TECHNIQUE FOR WIND PLAYERS"
(Value $13.70)
This book examines that most crucial of all wind playing techniques, – breathing. As it is the air that activates and controls the sound of all wind instruments, both woodwind and brass, it is fairly obvious that how we breathe and how we use the air is of paramount importance. This book analyses the 'how', 'why', 'when' and 'where' of breathing and provides a whole series of exercises to develop a correct and dependable technique.
So, order your copy of "How to play the oboe in one easy lesson" immediately to take advantage of this offer.
Two books for the price of one!
---
To order your copy of "How to play the oboe in one easy lesson",  CLICK HERE to purchase and download the book along with your FREE copy of "Breathing Technique for Wind Players".
Discover the secrets of oboe playing. Learn how to overcome the stressful nature of the instrument. Acquire the control and technical skill to create that wonderful silky sound that will draw words of admiration from all who hear. All you need to know is here in this e-book; – the product of over 30 years experience of teaching the oboe.
This comprehensive guide to the mastery of the oboe could be in your possession within just a few minutes. Don't delay! ORDER TODAY to take advantage of the "two books for the price of one" offer. Click on the link below to order and download NOW.
I wish you every success!
Robert Hinchliffe

P.S. The title of the book says it all, – "How to play the oboe in one easy lesson". Everything you need to help you master the instrument can be found within its pages.
P.P.S Order today to get your free copy of "Breathing Technique for Wind Players"
Two books for the price of one.